You work your tail off to craft helpful, valuable blog content that's sure to appeal your target audience. That blog post you just hit "publish" on? You know it will answer all of those burning questions your customers have about best practices for their businesses. You're feeling confident, accomplished, and like you've really got a good handle on this whole content marketing thing.
So imagine your surprise when you check your analytics and see that only a handful of people have viewed your sure-to-please post.
"What?" you think to yourself, "How is this possible? I know this information is helpful to tons of my current and potential customers—so why aren't they seeing it? Where are they?"
If you haven't already figured it out, content marketing isn't really a "build it and they will come" sort of situation. In fact, crafting high quality content is only half the battle. What's the other piece of the puzzle? Promotion.
That's right, you can't just publish a post and assume that eyeballs will immediately be drawn to your content. Growing (and even reaching!) your audience requires some legwork when it comes to promotion.
But don't worry. It's not nearly as intimidating as it sounds. We've got you covered! Here are four strategies to get your blog posts out into the world. We use them here at Audience Ops, so you can rest assured that they're tried, tested, and effective. Let's get to it!
Social Media
You knew this was going to appear on the list, so we might as well start with the big bear right off the bat. Of course, social media is a pretty critical piece of the pie when it comes to successful promotion of your content.
But simply saying "share your blog posts on your social media accounts" isn't necessarily helpful advice—it's far too broad. It doesn't give you any specific, actionable steps you can put into practice. Let's break it down into a few simple tips we use for every post.
Tag People and Businesses
Perhaps you don't have a large social media following yourself. That's when harnessing the power of influencers (individuals and businesses that boast a large amount of social media followers) can have a big impact on your reach.
How can you get those people to notice your content? If you're struggling to even get your customers drawn to your blog post, how will you grab the attention of these powerful and busy people and organizations?
It's simple: Mention them directly in a relevant blog post, and then tag them when promoting the post on social. It's something we do frequently here at AO.
This social media post doesn't need to be anything complicated. It can be something as simple as saying, "Hey @personyoumentioned! We mentioned you in our blog post about successfully promoting blog content!"
Here's an example we used for one of our own AO posts. We tagged Drip in a post we wrote about email marketing automation. Those two "likes" the tweet received? Well, one of them was from Drip. See? You really can get their attention!
Promote Your Bonus Content
If you've ever seen people at a sporting event brawling over t-shirts shot out of a cannon, you already know this: People love free stuff. They actually go a little crazy for it. So, if you're offering free bonus content with your blog posts, promoting that to your followers is definitely a smart strategy.
While the majority of your social media posts will talk about blog content in general, don't forget to schedule a few that explicitly highlight the bonus content. Be sure to use the word "free"—just to make that clear to your followers.
Looking for an example of how that's done? Here's a tweet where we promoted a free guide to creating your ideal customer profile.
Post Often
Once your blog post is live, it'll live on your company blog forever. Or at least until you take it down. You should plan to consistently drive traffic to that post on a regular basis—not just on the day it's posted.
We love using Buffer for all of our social media scheduling to help us stay on a practical schedule. For each post, we typically schedule four tweets and one Facebook post for the actual publish date, and then space out different posts for the days (and weeks) after that. So, even if someone missed one of your initial announcements of that post, they're sure to catch it later!
Basically, you don't want to blast your post out to your followers for one day, and then just let it fizzle. Evergreen content is always helpful to your customers, so make sure that you're always promoting it to them.
Newsletters
Here at AO, we're big believers in the power of a great newsletter. In fact, we draft a newsletter message to accompany every blog post we create. It gets sent out approximately an hour after the post is published, and we consider it to be the "grand announcement" of a new post that's published.
Of course, you don't want to slap together a quick email and immediately send it out to your list. As with anything, you should put some thought into your email newsletter. Here are a few tips to remember when writing.
Keep It Simple
I'm sure we've all been on the receiving end of those email newsletters that are stuffed so full with graphics, links, and even videos that they take forever to load. Then, even when they do manage to open, they look so cluttered and salesy you end up trashing them right away without so much as a second glance.
You might be tempted to deck out and brand your email newsletter within an inch of its life. But trust me when I say that simpler really is better.
All of our email newsletters are simple text-based messages that resemble a "real" email. This makes it easy for readers to get right to the meat and potatoes of the message without having to filter through a ton of clutter.
Subject Lines Are Everything
Obviously, the subject line of your email is the first thing your recipients see. And ultimately, it's what inspires your readers to dive right into your message—or dump it into the trash without ever even opening it.
Needless to say, you need to put some thought into crafting a fitting and click-worthy email subject. Avoid something general like "Check out our latest blog post!" and get to the value proposition of your newest content right off the bat. For example, if your new blog post is teaching your customers how to close more sales, use an enticing subject like, "Double your sales with these 6 quick tips!"
Seems like something you'd want to read, right?
Link Directly to Your New Post
This one should be painfully obvious, but you'd be surprised at how many businesses I've seen skip this incredibly crucial step.
You want to make it easy for your customers to read your content without having to sort through your entire website. So, within your email newsletter, you should link directly to the newest post that you're promoting. No, linking to your homepage or your "contact" page isn't the same thing. Lead readers directly to your post—it's what they want.
Get Personal
There's a lot to of great things to be said about personal touches. Beginning your email newsletters with a "Hello, Jason!" instead of a generic "Hello, valued customer!" can have a pretty big impact on how your customers feel about your message and your brand.
Most email marketing platforms offer the option to customize your greeting line. So, if you have your customers' first names at your disposal, use them! It's worth the extra effort, and will likely have a big impact on the success of your emails. This FulcrumTech study found that personalized emails generate six times higher transaction rates and revenue per email compared to emails that aren't personalized.
We told you it was effective.
Article Syndication
Having your content live on your blog is one thing. But if your goal is to get it in front of as many eyeballs as possible, you should also plan on re-publishing that post to different outlets.
Medium and LinkedIn are great spots to syndicate your content—and they're platforms we use for re-publishing our client's articles here at AO. For the most part, this re-published article looks exactly like the version that was posted on your blog, so it doesn't require too much extra effort on your end. However, there are a few thing you should keep in mind about article syndication to ensure it's as effective as possible.
Link Back to the Original
Ultimately, your goal is to drive people to your website and your email list. So, at the top of your re-published post, include a disclaimer that states this post was originally posted elsewhere. We typically say something along the lines of, "This article was originally published on the Company XYZ blog. Click here to see the original and access bonus content with it." Then, link the words "Click here" back to your original post.
Keep the Bonus Content Callouts
If you're offering bonus content, you probably had one or several calls to action within your blog post prompting readers to enter their email addresses and download that freebie. Obviously, you won't have this capability on LinkedIn or Medium—meaning you should just delete those callouts, right?
Wrong. Remember our whole pep talk about how much people love free stuff? If they were interested enough to check out your article, they could likely benefit from your free bonus content. So, leave the callouts in place and simply link those back to the original post on your blog. That gives any interested readers a simple way to get the information they want—while also building your email list!
Quora
The internet is a great place to get all of your burning questions answered. So it shouldn't come as a surprise that users turn to forums like Reddit and Quora to post inquiries and interact with others. This is a great opportunity for you to connect with new readers, build relationships, and get your blog content in front of a new audience.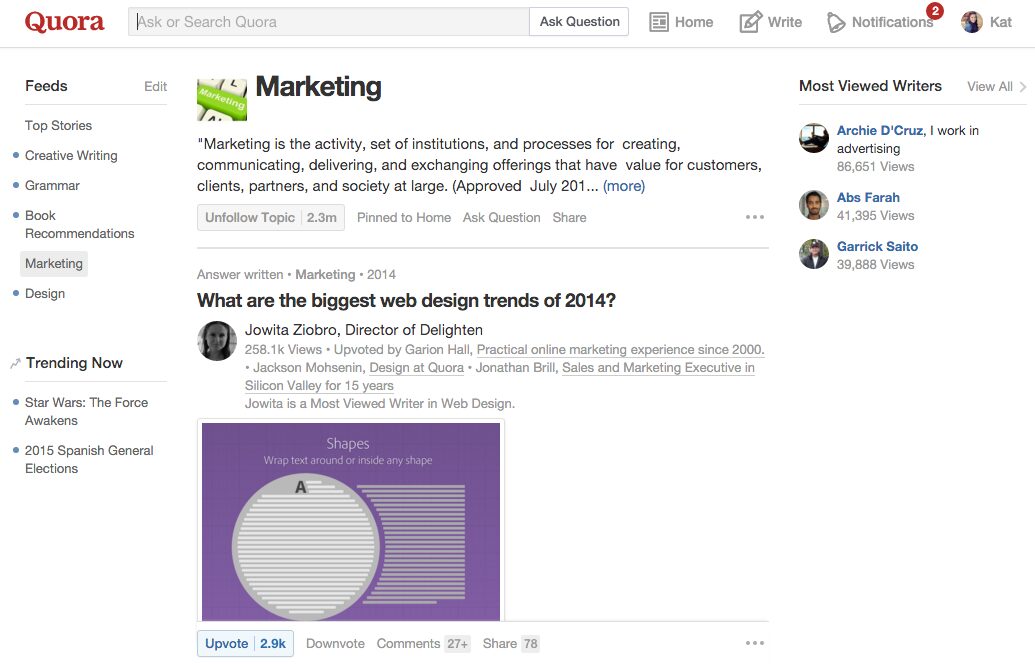 Quora is a resource we use a lot here at AO—and we've seen some great interaction and results! Needless to say, if you don't already have a Quora profile, you should create one right away. Then, after you publish a new blog post, search for any relevant questions that people might be asking around that topic.
Once you find a question that fits the bill, type out a thoughtful, helpful, and detailed response. You want your answer to be valuable, but don't give away all of the information the user needs. Instead, conclude your reply by stating that you recently wrote a blog article about that exact topic that shares more in-depth information, and then link directly to your blog post. Suddenly, anyone who's seeking an answer to that question knows right where to go to get their answers!
Quora is also a great place to see what types of questions people in your target audience are frequently posting. You can then use this insight to craft and appropriately tailor your blog content to address these common questions and problems. After all, the more helpful your content, the more people will read it!
Final Thoughts
Working hard on crafting valuable content for your blog readers is important. But it's really only one piece of the puzzle. If your ultimate goal is to continuously grow your audience and expand your reach, you need to work to not only write that content, but also promote it.
Promoting your blog posts might seem a little daunting, particularly when it feels like resources and tools are constantly changing. But these four strategies have been effective for us here at AO. Give them a try and see how they perform for you. We can't wait to hear about your results!